Château Mercian Mariko Winery
English Guided Tour

At Château Mercian, we offer the English Guided Tour including visit to the facilities, explaining our history and passion to the winemaking, and wine tasting etc.
This tour is not conducted on Saturdays, Sundays and public holidays. We are closed during the New Year holidays. For more details, please click the calendar.
Mariko Winery Operation Calendar (PDF)
Winery Tour Instruction and Requests
・Those of you who drive a car/ride a bicycle, underage, pregnant or breastfeeding cannot have wine or alcoholic beverage tastings.
・Because of the nature of the winery tour, customers must be 20 years old and over. And please refrain from participating with infants and children.
・Pets are not allowed. However, service dogs for handicapped persons are not limited to this.
・For sanitary reasons, we do not accept food and drink to be brought into the site.
・Please understand beforehand that reservations for tours may not be accepted depending on capacity reasons.
・On holidays, the winery is crowded, please be aware that we may ask you to wait for wine tastings.
・For the safety and hygiene reasons, we ask for your cooperation in accordance with the instructions of the staff in the area.
・The English Guided Tour requires a reservation in advance.
・Please be aware that the selection available for tasting may change.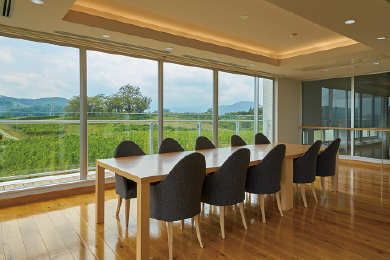 The luxury tour include a wine tasting including Château Mercian's finest iconic series in the Omnis Room, a special space overlooking the views, vineyards reflecting the seasons, and the winemaking facilities.
Duration

100 minutes

Capacity

10 people


*Minimum number of participants: 2 people

Participation Fee

15,000 yen (tax included)

Driver price

5,000 yen (tax included)

*Unfortunately we cannot serve wines to person who drive a car/ride a bicycle.
It's strictly prohibited by Japanese low.

*We will serve a bottle of non-alcohol sparkling Wine (360ml) to a driver.

*Please pay a participation fee at the reception upon arrival.
Course
Mariko Vineyard, Mariko Winery (winemaking facilities, barrel cellar), tasting in Omnis Room.
Tasting items 6 glasses
A total of six wines are offered, including two of Château Mercian's best icons and a winemaker's recommendation that shows the character of the region and varietal.
Château Mercian Mariko Omnis / Red
Château Mercian Hokushin Chardonnay left bank or right bank Rivalis / White